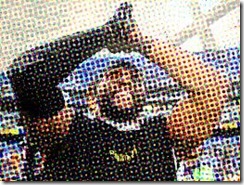 According to Barna, "There is plenty of research to show the declining sway of clergy, but who are Americans looking to instead? By more than a three-to-one margin, Americans believe professional sports players have more influence on society than do faith leaders. Overall, about two-thirds of Americans (64%) say they think pro athletes have more influence in American society today than do professional faith leaders (19%)."
So yes, the sermon most people listened to and took to heart Sunday was Ray Lewis telling them that if God is for your football team, you can not lose.  I saw Romans 8:31 trending on Twitter soon after he said it.  It will likely take the place of Philippians 4:13 as the go to verse in the pseudo-Christian locker rooms around the world.  Sadly, people ended their Sunday more interested in deer antler spray than something like receiving holy things from a holy God. 
Nothing from my sermon made the list of trending topics Sunday.  And neither did anything from anyone else's sermon either, even from the celebrity ranks of TV preachers.   
Take note.  The Church and its message are not popular.  And save a mighty working of the Spirit in our midst (for which we pray), we should not expect that to change all that much.  My parents lived in a day when the sway of the Church and her pastors was substantial. My kids are not likely to every experience the same.  We as congregations should not be blind to the changes.  We should be preparing to function as small congregations rather than as huge ones.  We need to be training parents to teach the faith well to their young so that catechesis can occur primarily privately rather than publicly.  We need to be clear with all our members that they need to be as careful about the pressure of their peers to abandon the faith handed down throughout the generation as they are about the pressures their teenagers face.  And those of us graciously still swayed by the word of God and those God has given to us to speak it must ask God to confirm us in these beliefs.  We must ask him to hold us firm even in the hurricane force winds that will seek to blow us away from his truth.