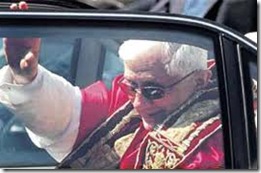 Pope Benedict XVI made an unexpected statement early yesterday morning.  "I did not intend to speak this soon, and I hope that I do not steal Francis' thunder.  But then again, it is hard to be afraid of a guy named Francis.  There is a reason why no one in 2000 years had picked that name."
When asked what it was that caused him to break his silence so soon, he responded, "Well, I hear Francis rejected the papal limo.  Rumor has it that he did not live in the luxurious house prepared for the Cardinal in Argentina.  I heard he rides the train with the people."
"You wanted to commend him for his humility then?" the reporter speculated.
"Well, sure, I think that is wonderful.  It shows he is a man of the people.  But I really wanted to speak out quickly for a different reason.  If he is not going to use the papal limo, I would like to say that I will take it.  That thing is poped out."
He went on to explain that Castel Gandolfo is beautiful but he had no idea how boring retirement would be.  "You only can stare at the view so long.  I have to get out of here.  And after the papal limo, any other car just will not measure up.  I still have movies on my Netflix queue on the TV in the limo.  I only got half way through documentary about pinball machine repair men.  It was fascinating. And also, it he does not want that really comfy chair at the Vatican, send that baby over.  I have a lot more time for naps now, and that chair was created for naps.  I have just the place for it."
Benedict concluded by saying, "I am just saying don't be hasty about getting rid of stuff.  A pope emeritus has to live somehow.  It Francis doesn't want it, I have first dibs."
Why is this in blue?  Click here.