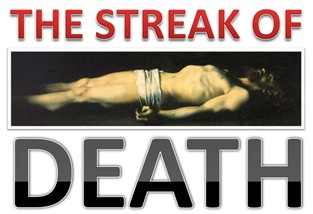 Joltin' Joe DiMaggio once had a hit in 56 baseball games in a row. It was a streak that some say no one will ever again be able to replicate. The Iron Man Cal Ripken started in 2,632 consecutive baseball games. No one has even come close to touching that streak. And from 1953 to 1957 the Oklahoma Sooners under coach Bud Wilkerson won 47 straight games, including two national championships. Streaks of any sort are often noticed in our culture.  When someone dominates something for a sustained period of time, people stop and notice. They begin to wonder whether anyone can ever break the streak.
There is one streak though that puts all other streaks in their proper place. It is a streak that began with Adam and Eve and has continued on for several millennia now. What was that streak? Well, it is death's streak. Ever since it came into the world, death has been on a streak of unequaled dominance. It has brought its defeat upon every person ever born. It even claims victories into the present day.
Bombs in Boston.  Ricin laced envelopes in the mail.  An explosion in Texas.  Death continues to add tally after tally to the streak.
When Jesus took upon himself human flesh, everyone would've been right to assume that he in due time would simply become another victim of the streak. And in fact, he was a victim for three days.  It robbed him of his last breath and left him lying in a cool dark tomb. Death surely believed that it had won another battle. It surely believed that he could raise the tally of its streak one number higher. It had to believe that it had defeated even God's son.
But on the first day of the week at early dawn, some of his friends of his went to the tomb. It seems they went to memorialize their fallen hero. Even if he had fallen to the streak, they still valued the fight that he had put up. But when they got there the stone was gone. When they arrived, they did not find the body of the Lord Jesus. As they wondered, about this, two men stood by them in dazzling apparel and told them that Jesus was no longer among the dead but was among the living.
The angel declared and we continue to celebrate that Jesus has indeed broken the streak. He is not in the tomb but has arisen. He was crucified but on the third day rose again. He was dead but now is alive. And not only is he now the victor but he has promised that his victory will be felt in the flesh by all who believe in him. Yes, each of those who are lying dead in their graves who seem to have fallen to the streak will one day be raised up. The last enemy known as death will be destroyed completely.
Even though the reports of death's victories have filled the news reports lately, never forget these truths: Death undefeated streak is over. He is risen. Jesus is the victor. He is risen indeed. Alleluia. Amen.