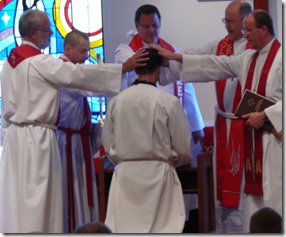 Most of the major issues of any contention before the LCMS convention this year were centered around our understanding of the Office of the Holy Ministry.  Basically, the contention centered on the question, "What things has God given ordained pastors (and only ordained pastors) to do?"
Our church body has struggled with the issues for decades now.  And ever since Synod met in Wichita in 1989 and said that laypeople could do may things formally only done by the ordained, we have been engaged not only in theoretical discussions about this issue but have been dealing with all sorts of situations which seem at odds with one of the articles of the Augsburg Confession, the document which is meant to most clearly define for us Lutherans what it means to be faithful to Christ:
Article XIV says, "It is taught among us that nobody should publicly teach or preach or administer the sacraments in the church without a regular call."
We have watched many men (and some women) start to publically teach and administer the sacraments without being ordained by God through the Church to do so. 
At our convention this year, we started to talk more about how to meet the needs of those being served by these people without acting in contradiction to the Scripture's teaching about the Office of the Holy Ministry.  Progress is much slower than many would like but it did seem that the Synod recognized that there is an issue and will move forward to study and then hopefully correct the situation.  We will move toward ordaining those who are doing these things already and we will move towards making clear that those not ordained as pastors should not be doing them.  This will mean much discussion on what is required for ordination but those discussions are much better to have than the ones we have been having.
And yet, while the direction of our last convention seems to be right on this issue, there are many members of the Synod at the same time arguing that the health of the church  depends on us not only embracing the ideas accepted back at Wichita in 1989 but taking another leap forward.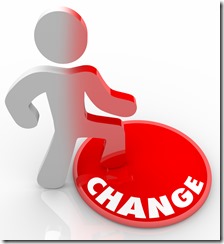 If Wichita told us that laypeople could be pastors, the next step is to tell pastors they no longer need to be pastors.  Let me explain.  There are those who wish to free pastors from the traditional tasks associated with Word and Sacrament ministry so that they can start to "lead" instead.  Oh, they are to still be called pastors, but they are to use that title to "lead" rather than caring for people through Word and Sacrament ministry.
Listen to words from a blog post which one of the leaders of a synod RSO called one of the best articles he had read in a long time:
Too often members—and even the church leadership culture expectations—focus more on caring for the members through deep and wide pastoral care. Hospital, nursing home, and home visitation are essential in most churches—particularly those under 350 in attendance. Then of course, there are marriages, counseling sessions, crisis counseling, funerals, follow-up bereavement care and counseling. Not to mention membership and spiritual formation counseling. If the pastoral leaders, deacons, and elders do all the expected caring, we have little time to lead the church forward. There's only so much time in a day and so much energy.

After decades of consulting with churches of all sizes and denominational affiliations, I am convinced that many churches stay stuck in a plateaued attendance pattern because they choose not to change their expectations for church and pastoral leaders. When clergy are expected to do most of the caregiving, the church decides to become plateaued and stuck in a maintenance posture leaving little hope for engaging the unchurched around them. Members expect pastoral care from the clergy. In fact some often remind the pastor, "We deserve to be cared for. After all, we do pay the bills around here!"

For a church to grow, church leaders have to do more than care for the flock. They must lead forward. Church leaders and congregations need to understand that pastoral care can be provided in a variety of ways to minimize the caregiving expectations of the pastor/staff and deacon leadership in order that key leaders might focus on leading the church forward into the future. Unless the church expectations shift, the pastoral care model cannot shift. Leadership is about moving forward not just pampering the pews or pacifying the saints and sinners of the church. How can you provide adequate pastoral care while you provide leadership into a bright future for the church?
While there are certainly things that pastors are expected to do in  congregations that have little to do with publicly teaching the Gospel and administering the sacraments that could be given to others to do in order to free the pastor to do more Word and Sacrament ministry, this post and this RSO seem to suggest that the real key is to free pastor from many aspects of Word and Sacrament ministry so that they might lead instead.  It is hard to be both pastor and CEO and the better part is to be the CEO.  
Does it seem odd to anyone else to describe members wanting pastoral care from their pastor as problematic?  It does to me.  It that not what God has given them to do, to provide pastoral care, preaching and teaching the Word and delivering the Sacraments?

So while we as a synod try to fix the situation where laypeople are serving as pastors, we must also keep an eye on this idea that pastors should serve as CEOs rather than simply being pastors.  No doubt both are not in line with sounds teaching.  No doubt the two are connected.    They both take us to the  "What things has God given ordained pastors (and only ordained pastors) to do?"