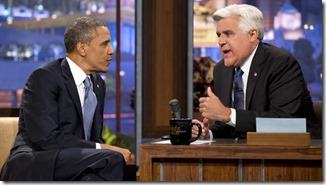 On Leno, the president said,
"Well, I've been very clear that when it comes to universal rights, when it comes to people's basic freedoms, that whether you are discriminating on the basis of race, religion, gender or sexual orientation, you are violating the basic morality that I think should transcend every country.  And I have no patience for countries that try to treat gays or lesbians or transgender persons in ways that intimidate them or are harmful to them."
If this doesn't send a few chills down your spine, it should.  Impatience and intolerance go hand in hand.   And in the name of tolerance, the president is to the point of publicly declaring that that those who do not embrace homosexuality as a moral good should not be treated with patience.  How long until such people will not be tolerated at all legally?   If he is trying to enforce this idea in countries where he has no authority, what do you think he desires and seeks to implement in this country where he has much authority?  It will not be long until speaking against homosexuality in any place or way will be a crime in America if we continue down this path. 
When basic morality is defined in a way that contradicts nature, we are at a breaking point. We are at a breaking point.