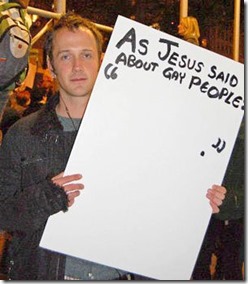 It is a common assertion in our day.  Jesus himself, the center of our faith, never said one negative word about homosexuality.  Oh, Paul railed against it.  Levitical law makes clear that it is not to be practiced among the people of God.  But not Jesus.  He was that uber-tolerant modern man who made sure not to offend anyone.
So is it true?  Did Jesus say anything about homosexuality?  Well let me ask you a question, "Who do you believe Jesus to be?"  If you take him to be just another man spitting out pearls of wisdom that each man and woman should feel free to wear for an evening, I suppose you might be able to suggest that in the most literal wooden sense Jesus never said anything about homosexuality.  I mean if you search just the red words in your bible, you will not see Jesus set forth a political platform position on the issue of our day, gay marriage.
But if you think of Jesus as something more than a man able to shell out something of the quality of Jerry Springer's final thoughts, then you have a problem.  If you confess him to be the eternal Son begotten of the Father, then he has spoken.  Because his words then are not just the ones spot printed in red.  If he is God then the Levitical law is written by his hand.  Paul's words are his also.  No word of prophecy ever came about from a man only, but the Sprit carried men along in order than they might speak and write down the words of God, the words of the Spirit, the words of Jesus.
The statement that Jesus never said anything about homosexuality rests of two assumption which cannot rest within the teaching of the faith.  You must deny both that Jesus is God and that the Scriptures are the word of God.  And if you are willing to make both of those moves, I am not sure you care what Jesus said anyways. 
If an atheist wants to tell me Jesus didn't say anything about homosexuality, I will work within their worldview and show them first what Jesus did say about marriage and sexuality.  I will show them that everything he personally said about marriage was all firmly rooted in Genesis one and two.  I will be careful to explain that Jesus was not just against homosexuality but every expression of sexuality that does not find its proper place between the longing stares of husband and wife.
But if you claim to believe in Jesus, I have no patience for this rhetoric.  You cannot deny Jesus' nature in order to morph him into a you-shaped idol.  Trust me, I have tried my hand at similar efforts and found them useless and sinful.  We must deal with Jesus as he is, as he has revealed himself in the totality of Scriptures.  Has Jesus spoken?  Of course he has.  In many and various ways.