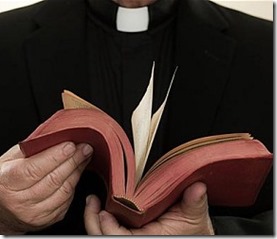 It is an awesome Word of God which was uttered long ago by the great prophet Isaiah:
"So shall my word be that goes out from my mouth; it shall not return to me empty, but it shall accomplish that which I purpose, and shall succeed in the thing for which I sent it."
It is a Word that should provide a firm foundation underneath the feet of every pastor sent to preach the word of God. And yet it is a word that your pastor doubts many days. Why? Well, because many times his day is filled with dealing with and thinking about those who seem to not be phased even for a second by the word he speaks to them. He desperately wants to believe this promise of God and yet Satan uses what his eyes see and what his ears hear to cause him to doubt it.
He preaches and teaches about the things of God with every bit of energy he can muster and yet he goes home from church on Sunday wondering whether anyone really listened or cared.
He makes visits to people who are living in obvious contradiction to the ways of God and seems to accomplish nothing more than making another enemy for himself.
He offers the sacraments as faithfully as he knows how and yet sees even regular members treat them as inconveniences rather than gifts of God.
He seeks to lead the sheep and yet fears that if he looked over his shoulder he would see no one walking behind.
He looks out at the mess all around them and the mess inside of himself and asks of God, "Is this really what you sought to accomplish with your Word?"
I write this not to make you feel sorry for your pastor. I write it so that you might know how Satan tempts your pastor to doubt the very Word he is called to speak. I write it to encourage you to let your pastor know when the Word of God is bearing fruit in your life. If the Word he has been sent to deliver has led you to repent of a sin you long held precious, let your pastor know. If the preaching of the Gospel has cleared your conscience of a guilt that long lived there, let your pastor know. If some word of wisdom he has related to you from the Scriptures has helped you to live out your life in a more abundant or peace-filled way, let your pastor know. He needs to know these things in order to be bolstered in his faith in the power of the Word he has been called to speak.
Here's the truth. God's word does accomplish the thing for which it was sent. However, your pastor often deals daily with situations where this truth is not apparent to the eye or to the ear. And Satan uses each one of those situations to seek to shut your pastor's mouth.  \As those who depend on the Word that your pastor speaks to you in the name and in the stead of Jesus, don't let Satan's word be the only word. Share with your pastor the fruit that God's word has brought forth in your life. It may be just the word that God needs him to hear most.