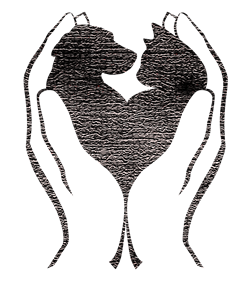 The word humane in the English comes from the Latin adjective hūmānus which has as its linguistic root homo (a noun).  And the Latin word homo means human being.  Hence in biology humans as a species are indentified as homo sapiens, literally humans with wisdom.
Therefore, while most modern dictionaries will define humane as being compassionate or something like that, etymologically it means to treat something as a human.  In fact, the first humane societies were formed to rescue humans and not animals.  Only in the last 150 years or so has the word become more and more associated with animals than humans.
We as Christians are not therefore to treat animals humanely.  Why? Because they are not humans.   So how do we treat them?  We treat them as creatures of God given to live under the dominion of humanity.
Genesis 1:26  Then God said, "Let us make man in our image, after our likeness. And let them have dominion over the fish of the sea and over the birds of the heavens and over the livestock and over all the earth and over every creeping thing that creeps on the earth."
Does that means that we are free to abuse them?  Far from it.  We are to treasure everything that God has made.  Does it mean that we should not be rescuing them from peril?  Again, not at all.  We value all life.  Does it mean that we cannot mourn the loss of animals that have served as pets in our home?  Of course not.
But it does mean that we understand that they are given to live under the dominion of humans and are ultimately created for the good of humanity like all of creation.
So, yes, we can do things to animals that we would not do to humans.  We can hunt them.  We can control their population levels.  We can eat them. 
Genesis 9:3  Every moving thing that lives shall be food for you. And as I gave you the green plants, I give you everything.
So should we treat animals humanely?  Well I suppose it depends on your definition of humane.  Should we treat them as well as is possible while still understanding their proper place in creation?  Yes.
 But should we treat them like humans?  No.  They are not.  To suggest this is to buy into the overall lie of evolution which seeks to declare that there is no real distinction between humanity and the rest of creation. 
Most of you reading this (at least my "regular" readers) do not accept the idea that there is a lack distinction between humans and the rest of creation.  But I fear all of us while denying the premise are buying into the conclusions that those who do not believe in such distinction are making.  
Many speak about their pets in a way that affords them a near human status.  They believe that an animals can provide them the kind of companionship formerly reserved for humans.  They call their animals their children.  I understand that we can get really attached to pets and often the talk is just hyperbole.  But we must keep clear and make clear that no animal can truly be for us what God intends only other humans to be for us.
Others have taken up vegetarianism (nothing wrong with that generally – except the lack of steak) not for health reasons but because they believe it is improper to butcher animals to eat them.  They suggest animals have right similar to humans and yet do not recognize they are buying into the evolutionary premise that there is no real distinction between the two. Again, we must remain firm that there is nothing wrong with humans eating other creatures.  One may choose not to eat them for several reasons but it is improper to suggest that we may not due to some bill of rights they possess that looks strangely like the one only humans possess.
Love your animal.  Eat your animal.  Just don't think your animal is human.  Don't in that sense treat them humanely, like a human.  Treat them as they are, creatures of God given to live under the dominion of humanity.