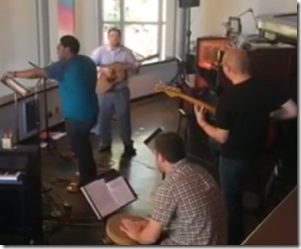 The Gottesdienst blog today has a post in which it seeks to expose the worship practices occurring at Concordia Seminary, St. Louis.  Those that know me who tell you that I am one who uses the liturgy and hymnody of the Church each week with joy.  I am one who understands quite clearly the concern about churches of our confession leaving behind those treasures for something very shallow and at times toxic to pure theology.
But on the whole all of the outrage over the video that Concordia Seminary posted seems quite overdone, at least from the small amount of information offered on the Gottesdienst post.  It is nothing more than red meat thrown out to the confessional lions.  No doubt the hit count will be high.  But will anything else be accomplished?
Although it is not specifically mentioned in the post referenced, the real outrage on Facebook about this video is that it is an example of contemporary worship occurring at one of our seminaries.  For many, this is enough to explode.  Pulling a guitar out of the case will set them off. They react to the instrumentation and the presentation right away.  It must be wrong because it must be wrong.  Some have not ever progressed beyond, "Organ good.  Guitar Bad" in their thinking about corporate worship. 
Another complaint is that this is simply copycatting evangelicals who do not share our confession.  That may well be.  But we must apply that consistently.  We should ask in every case if our similarity to these other confessions shows forth an underlying lack of understanding of our own confession, but we cannot just say that because something looks like what is being done in a heterodox church, it is necessarily heterodox.
The next critique is of Chris Tomlin himself.  And no doubt, he holds to a  heterodox confession of faith.  But does that mean that we cannot use anything he or others of a heterodox confession might produce?  If so, we will need to start tearing pages out of our hymnals.  We have hymns from many who held to heterodox confession in their lifetime (and I am not just talking about Twila Paris).
The next critique is the song itself.  There is more than a bit of irony in critiquing this song which was inspired by Psalm 136 about having too much repetition.  If that is the charge, Psalm 136 must go as well.  Look it up.  While I will agree that the song is fairly shallow in theology, I do not see anything that is heterodox especially when used in a liturgical context.  For those who insist every song must explicitly reference Jesus, we must then say that the Psalter is no longer suitable for Christian worship either.  This song also is very God-centered which is rare for CCM songs.  It speaks much more about God than the worshiper, laudably so.
Others have questioned the musical skill of those performing.  I am not trained enough to make a definitive statement about this other than to say that many of our churches use the liturgy and hymnody and yet do not have musicians of the highest quality.  To my untrained ear, the talent was not superb but it was not distractingly bad either.
Listen if Concordia, my alma mater is regularly throwing away the liturgy for some order of service meant solely to entertain, I am outraged also.  If the hymnody of the church is being throw away for the latest CCM iTunes playlist, I am outraged also.  But I do not know this to be the case and have seen no real evidence that it is.
If a song of praise is included once and a while and it is performed using instrumentation other than the organ, I am not outraged.  So long as the song is not teaching something false, I am not outraged.  Songs that foster meditation on one or two characteristics of God are not evil.  If that is all we get in worship as is the case in some churches. including our own, there is an issue. But if such songs are included in the context of liturgy and hymnody that is more didactic in nature, it is not inherently bad and may well be good.
I like red meat on my plate.  But not on my Facebook feed.  It only serves to make it harder to foster deep conversation, scriptural reflection, and confessional discussion about the true nature of Christian worship. When something like this video is put forth as an atrocious occurrence, we will have no chance to speak about things that are truly atrocious going on in the Church.