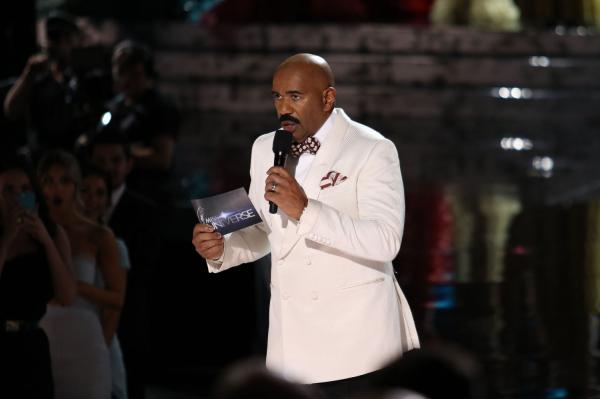 Maybe some of you have seen the video below.  If has been going around on the internet in a viral fashion (almost 50 millions views). No, not the one where Harvey mistakenly crowns the wrong gal the beauty pageant queen, but the one where he "preaches" at the Family Feud audience.  This is the one is which the audience becomes his congregation after the main cameras are turned off.  You can watch the whole clip embedded below if you want to see what I am talking about.
But the basic idea is this:  If you want to be successful, you have to jump.  Basically if you want to want money, fame, or lots of stuff, you have to take chances.  God has given you a gift to use that will gain that life for if you just take chances.
This speech is a prepackaged meal of gospel prosperity with a side of the American Dream.  For those not familiar with the term, the Prosperity Gospel is a plague that seems to be contagious in two seemingly very different communities in our day, the poor black community and the middle to upper class white community.  It is the idea that God wants you to be successful in terms of wealth, health, and lifestyle.  If you follow God closely enough and "jump" at the right times, you will be rich, fit, and happy.  In one community, the preacher is playing off the people's desperation and in  the other the people's aspirations.  In either case they are selling the prospect of a better life wrapped up in a loosely tied bow of religious jargon.  The problem is that it simply  what they are selling is not what God is offering to humanity.    He offers eternal salvation through His Son rather than fifteen minutes of fame.
My advice to you is the same I would give you if I saw you standing on the  edge of a tall cliff.  "Don't jump."  Well, at least don't jump if you believe that jumping is the key to happiness and purpose in life.  I am not against taking an occasion risk personally and certainly, we at times must suspend the constraints of our reason to follow Christ.  But in general, purpose in life is found living right where you are standing.  Discontentment is not the sign that you are supposed to be doing something more manifestly amazing but instead is the result of not recognizing the value of what you have been given to do already.
Most Americans my age have been filled with delusions of grandeur from the time we were young.  We all think that if we do our best, we will be famous at least in one sphere or another. Every kid is little league is taught to dream of the World Series.  Every writer wants to see their name on the NYT Best Seller list.  Every cook with a few knife skills thinks they deserve their own show.  And all of this assumes that somehow fame and success will mean fulfillment in life.  Ask Solomon about that assumption.
I write this post to suggest that to really find purpose in life, look where you are standing before jumping somewhere else.  Be a loving Father.  Be an obedient daughter.  Be a great boss at work.  Be a concerned citizen.  Be a treasured employee.  Pastor your congregation. Raise your children.  Do your job with integrity.  In these simple and, yes, someday mundane activities is our real purpose in life.  There first and foremost do we love God and our neighbors.  These are the vocations God has given to us unquestionably.   If God desires a bigger stage for any of us, He will carry us there also.  But we should not grow weary of doing good right where we stand.
Inspirational speeches are being confused for prophetic speech in our day.   Most people would rather watch a Ted Talk than listen to a faithfully crafted sermon.  Steve Harvey in the video shows he has learned the skills so many preachers use to manipulate a crowd into a glorious frenzy.  But just because you mention God does not mean you have really spoken for Him.  Don't jump.  Bloom where you have been planted.  For God has planted you there with purpose.