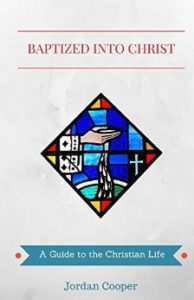 In his new book, Jordan Cooper seeks to fill a hole that many, including myself have noted over the years.  While Lutheran Publishing Houses have produced tremendous theological resources of for pastors and academics, theological writing for laypeople has been often overlooked or not published.
Many pastors struggle with how to take their laypeople onto theological topics of importance that are not specifically covered in the Small Catechism.  While Lutheran clergy operate with a wide array of theological axioms and assumptions, most laypeople have never been familiarized with these assumptions.
This book is a good aid in that direction.  It seeks to help laypeople better understand topics like baptismal identity, passive and active righteousness, law and gospel, sinner and saint, two kingdoms, vocation, etc.
It is a book you could put right in people's hand and let them absorb some of the key tenets of  our understanding of the Christian faith.
This book also is good because it reminds us that the Christian faith is not meant just to be understood but is meant to be lived out.  It serves as a good buffer against false teaching in the some parts of the Church which often say nothing on this topic for fear that the Gospel will be lost or overshadowed.  The Scriptures do not share this fear and neither should we.
I would encourage any Pastor to buy and read this book, and think about whether it might be something you can put right into the hands of your laypeople.