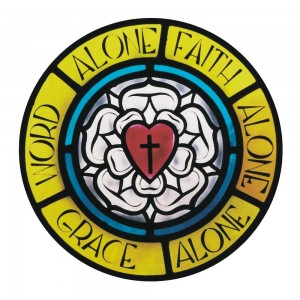 It is time that we stop daring people to be Lutheran. Was Luther crucified for you? Or were you baptized in the name of Luther? No, it is past time we stop speaking as if our goal is to make people good Lutherans. It is time that we start speaking and living with the single intention to make people faithful to the incarnate and revealed Word and not some other identity, no matter how precious it is to us. Oh we rejoice that God used Luther to remind the Church of its sure foundation. We treasure the Lutheran confessions because they laud the word incarnate and they expound the word revealed faithfully. We can treasure the things Lutherans have held dear. But when we say things like "Dare to be Lutheran" we are giving evidence that we are afraid to say what we really believe, that to be what we understand as "Lutheran" is to be authentically Christian. 1 It gives the impression that we are are simply dedicated to making members who know the secret handshakes and the jargon of our club.
I have no interest is spending my life making people good Lutherans for that sake alone. I have great interest in making people faithful to God and the Word. Friends, we are in a battle for the "face" of the Church in our world. It is time we stop daring people to be Lutheran and instead dare to say what we truly believe. We must be bold enough to say that our confession of faith is the true confession of the Church. We no longer have the luxury of just trying to make Lutherans more Lutheran, if we ever did. Such a work is too small for God. He must call all back to a faithful confession of Him and his Son. If we sit in our corner just trying to make people better Lutherans, we ignore the body of Christ to their peril and ours.
After all, telling someone that they are not being authentically Lutheran is not the law. Please ponder that statement. It does not place the person before God. Only when we do the tough work of contending that teachings that are contrary to those in our confessions and practices that do not flow from them are not only not Lutheran but that they are unfaithful to the Lord of the church has the law of God that convicts been spoken. Then can the Gospel come with its cleansing and purification.
Would you give up the name Lutheran for a more faithful visible church on the whole? I would in a heartbeat. I trust that God would as well. Dare to be Christ's. He was crucified for us. In his Name are we baptized.
I do want to make clear this is not an attack of Higher Things in general. While I have not been part of one of their events yet, from afar and knowing some of the men involved, I am impressed with much of what I see. And there is no doubt that some of what has been done recently with LCMS youth in recent days has not been done in a way that is faithful to the Scriptures and the Lord of the Church (generally because it is often borrowed from parts of the church not confessing the scripture as the Church has throughout the ages). But I hope that others will agree that those things we love most in the Church, we must also think critically and spiritually about and not be afraid to seek to make even more faithful. We must make sure that we are really saying what we should in those places. This is but my simple critique of the motto of the group. Be faithful to the Word and you will end up Lutheran, not the other way around. I treasure you comments and discussion on this post especially.
Oh, to be sure there are Christians in other parts of the church. But equally true is the fact that we believe that in other parts of the Church not sharing the doctrine which we hold to, there is error in teaching which much be corrected. Also, it should be said here that I speak of our doctrine, not our believing of it or practice consistent with it, which are constantly marred by sin. In other words, our churches are not perfect, neither are our members. But the teaching we hold to is the teaching of the Church, the teaching passed on from generation to generation. [↩]