A wife is bound to her husband as long as he lives. But if her husband dies, she is free to be married to whom she wishes, only in the Lord. (1 Corinthians 7:9)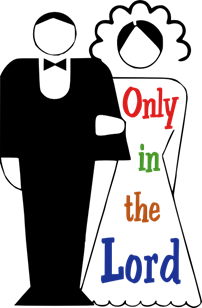 Who is it that a single Christian should desire to marry?  Who is it they should date?  Here is the answer.  "Only in the Lord."  More and more we see marriages between people of differing religions.  The Rabbi leaves the podium and the Priest steps up.  The traditions of one religion are combined with another.  And worst of all: the one flesh union is tainted by two divided souls.
Some have gone for far as to suggest the the words above only apply to widows.  What a ridiculous argument.  What it simply assumed in the other contexts is blessedly spelled out for us stubborn people here.  Christians are to marry only in the Lord. 1  Only then can the one flesh union be manifested in every way God intended.  And only then can the great blessing that marriage be experienced in the fullest way.  Yes, spiritual union is certainly more important that sexual, financial, or habitational union.  God reveals it, and even secular studies confirm it.
And yes that means Christian people need not flirt with, go on dates, exchange physical affection with those who are not in the Lord.  Although our society tries to break the obvious connection between dating and marriage, we must not be fooled.  Else we will end up especially connected to someone we ought not marry.
To be married to one in Christ is a great blessing.  Do not accept anything less.
As a side note to pastors:  We must have the courage to apply this truth to those who come to be married to those obviously not in the Lord.  We all know how hard it is to say "no" to those who are so "in love."  But we must proceed with Godly courage and conviction.
Of course, if one finds themselves already married to an unbeliever, the instructions found in 1 Corinthians 7 apply: 1 Corinthians 7:12-17   To the rest I say (I, not the Lord) that if any brother has a wife who is an unbeliever, and she consents to live with him, he should not divorce her.  If any woman has a husband who is an unbeliever, and he consents to live with her, she should not divorce him.  For the unbelieving husband is made holy because of his wife, and the unbelieving wife is made holy because of her husband. Otherwise your children would be unclean, but as it is, they are holy.  But if the unbelieving partner separates, let it be so. In such cases the brother or sister is not enslaved. God has called you to peace.  Wife, how do you know whether you will save your husband? Husband, how do you know whether you will save your wife?  Only let each person lead the life that the Lord has assigned to him, and to which God has called him. This is my rule in all the churches. [↩]