A few assumptions of this post:
The method of baptism is not related to its efficacy.  Where there is water and the Word of Jesus, there is baptism.  There is forgiveness, the Spirit, and life.  Therefore, the question of whether immersion, sprinkling, or some other form of baptism is used can be discussed along lines of tradition, convenience, imagery, etc freely.
I understand that many Lutherans believe only sprinkling at a font should be used since others in the body insist on immersion.  They believe that we must show the freedom we have in the face of such false teaching.  I understand this concern and resonate with it in general.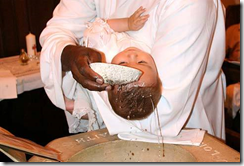 Lex orandi lex credendi is translated loosely: How one prays, one believes.  This phrase is usually brought to battle to challenge those people that think that forms of worship can be changed without changing teaching.  We choose forms based on our beliefs, and our forms influence our beliefs.  No form is neutral in this sense.
Allow me today to apply this principle to baptism.  While no doubt most Lutherans use a font for Baptism due to practical matters, tradition, and to show the freedom we have in the method of baptism, that does not mean that how we do it does not influence our beliefs. Lex orandi lex credendi.
When one baptizes at a font, the image is primarily an image of cleansing.  And this certainly is a scriptural way to speak of baptism:
Ephesians 5:25-27 Husbands, love your wives, as Christ loved the church and gave himself up for her,  that he might sanctify her, having cleansed her by the washing of water with the word,  so that he might present the church to himself in splendor, without spot or wrinkle or any such thing, that she might be holy and without blemish.

Titus 3:5-6   …he saved us, not because of works done by us in righteousness, but according to his own mercy, by the washing of regeneration and renewal of the Holy Spirit,  whom he poured out on us richly through Jesus Christ our Savior…
When one sees baptism practiced in this form then, the primary thing they are taught is that one is cleaned up at baptism, that their sins are forgiven.  And certainly we sound a loud "Amen" to this.  But there is more to baptism that just cleansing of past sin (original and actual).
Romans 6:4 We were buried therefore with him by baptism into death, in order that, just as Christ was raised from the dead by the glory of the Father, we too might walk in newness of life.
There is also resurrection. A new man free to walk in righteousness and serve God is raised up.  Listen to  Luther in the Babylonian Captivity of the Church:
Hence it is indeed correct to say that baptism washes sins away, but that expression is too weak and mild to bring out the full significance of baptism, which is rather a symbol of death and resurrection. For this reason I would have the candidates for baptism completely immersed in the water, as the word says and as the sacrament signifies. Not that I deem this necessary, but it would be well to give to so perfect and complete a thing a perfect and complete sign. Thus it was also doubtless instituted by Christ. The sinner does not so much need to be washed as he needs to die, in order to be wholly renewed and made another creature, and to be conformed to the death and resurrection of Christ, with Whom, through baptism, he dies and rises again. Although you may properly say that Christ was washed clean of mortality when He died and rose again, yet that is a weaker way of putting it than if you said He was completely changed and renewed. In the same way it is far more forceful to say that baptism signifies that we die completely and rising to eternal life, than to say that it signifies merely our being washed clean from sins.  (3.23)
"It would be well to give to so perfect and complete a thing a perfect and complete sign."  This is the point of this post.  Perhaps we should return to immersion.  It is closest to the institution of Christ and it gives the appropriate image of the death of the old self and the rising up of the new self.  It shows us what is done in baptism.  Both things.  Dying and Rising.
Perhaps too many years of practicing sprinkling has taught us to think of baptism only as a taking of sin and not as a giving of new life.   In fact, all too often when we talk about the rising in connection to baptism, we speak only of the old self's ability to rise and swim (a Lutheran, but not necessarily strictly biblical way to talk).  We must speak of the reality of the new life we are given.  The new life that frees us from slavery to sin.  All too often I hear fellow brothers speak as if we are still bound just as we were before baptism.  I can't help but wonder if the way we baptize has not effected the way we believe and left us with little to say or believe about the new life we have in Christ Jesus already now, while still here on earth.
I have a baptism Sunday.  It will be at the font.  I have no doubt of the efficacy of that baptism.  The old man will be killed and the new man will be raised.  But will those watching get the point?  Will they see "a perfect and complete sign" of what occurs.  Will the way we pray/worship/baptize affect how they believe?