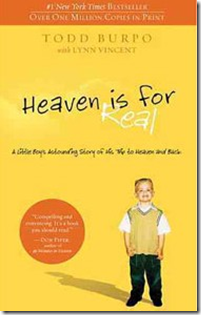 As a pastor, I try to read books that my members are likely reading.  And while among Pastor types the book of interest in recent times has been Rob Bell's Love Wins, among laity another book seems to be the buzz.  It is the one I am asked about more often than any other.  That book is Heaven is for Real.
The official website summarizes the book this way:
Heaven Is for Real is the true story of the four-year old son of a small town Nebraska pastor who during emergency surgery slips from consciousness and enters heaven. He survives and begins talking about being able to look down and see the doctor operating and his dad praying in the waiting room. The family didn't know what to believe but soon the evidence was clear.

Colton said he met his miscarried sister, whom no one had told him about, and his great grandfather who died 30 years before Colton was born, then shared impossible-to-know details about each. He describes the horse that only Jesus could ride, about how "reaaally big" God and his chair are, and how the Holy Spirit "shoots down power" from heaven to help us.
I must admit that often when I read a book that is very popular in the Christian church at large, I am terrified at what is being served and devoured.  Usually these books are far from sound teaching.  Usually reading one of these books brings out the apologist in me arguing for the faith revealed in the Scriptures as opposed to what is presented in the book.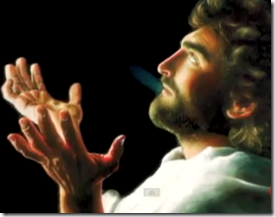 This book surprisingly did not spur me on to such a defense.  While of course I can not verify whether this boy was gathered to God and his people for those few moments, I can say that most of what he "saw' is thoroughly scriptural.  Perhaps the real value to me as a pastor was reading how a young boy describes the things he saw.  It is always as a parent and pastor a struggle to explain things faithfully while using the limited language of children.  For instance, Colton says Jesus had markers to his dad at one point.  After some questioning, Colton explains that he had markers on his hands and feet.  He was referring to the scars made by the nails.
Is there any danger in this book?  There are a few things Colton says that are not attested in the scriptures.  He says humans have wings (although make clear that they are not angels).  He suggests that his miscarried sister is in heaven.  He says that no one is old.  While none of these things are attested in the scripture, none of them are contradicted either.  There are a few deficiencies like little talk of the resurrection of the body.  But again he does not specifically deny such a teaching, he just does not mention it.
Perhaps the only real danger is the one inherent any time someone claims to have received revelation from God apart from his Word.  In the case of reading this book, it can leave the reader wanting a similar experience to be sure of their faith.  Or one can simply put their trust in Colton himself and his story.  And that is dangerous, because we could find out in a couple years that Colton and his Dad made all this up to sell a book (I do not believe this will happen, but it must be said to remind us of the fragile nature of the words of any human in comparison to God's Word).  Only the Word of God can truly be our source of confidence.
As a pastor I have talked to several people who claimed to have a supernatural experience.  They have said that they have talked to Jesus, were rescued from danger by an angel, etc.  To them, I say the same thing I say about this book.  Unless what is revealed stands in contradiction to the word of God, I have no reason to doubt what they have said.  Perhaps God has chosen to comfort them in some miraculous way in his perfect knowledge of their needs.  But if there experience draws them away from the Word written or the Word incarnate Jesus, then it must be left behind as given from a different spirit.
Whether Colton went or not, Heaven is for real.  I know this because the Spirit has convicted me of the truth of his Word.  But that does not mean that he did not have a vision or spend time with God.  We just must make sure our trust rests first on Christ and the Scriptures in which he is revealed.  That is how we know what is truly real.