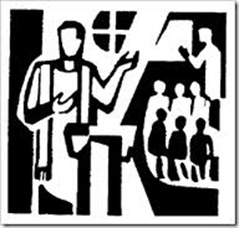 As a pastor, it is important to know who are the people entrusted into your spiritual care.  But it seems to me that the question once easy to answer has become more complex.  In order to spark discussion let me suggest two understandings (admittedly oversimplified) most often guiding our thoughts on  this important question.
Each pastor is pastor only to those who are part of the congregation or community they are called by God to serve in. 
Each pastor is pastor to anyone within the reach of their voice.
I, along with the majority of LCMS pastors, have generally operated with the first  understanding.  We are pastors only to the congregations and communities that called us.  Therefore, each laymen has only one pastor (or set of pastors) given to them for their care. This understanding guides my practice.  If someone comes to me who has a question of a spiritual nature, I am going to direct them to their pastor to answer the question.   If someone I know to be a member of another church finds their way into my pews, a phone call will be made.  If someone communes with us, I will let their pastor know.
Conversely, I would be alarmed to find out that one of my members was regularly receiving pastoral care from another pastor.  Every once and a while you will have a pastor in an area who simply offers pastoral care to whoever he has contact with regardless of where they might be members.  Needless to say, they are not well regarded by their peers.
But we live in a new world.  It used to be the only other LCMS pastor one's members might have contact would be a pastor in a neighboring community.  That is no longer true.  They may regularly see another pastor who has a congregation on the other side of town.  They have access to pastors and their teaching on the radio or television.  If they are on the internet, there are  blogs to read, videos to watch, and email links to click.
Let me break down the question more practically.  If I heard that a member had a question about the texts for the week and went to the other pastor in town each week to get the answer, I would be concerned.  Does it change anything if they go and listen to Worldview Everlasting each week?  Should I not be concerned?  If I found out my member wanted to talk about the latest new story from a theological perceptive and went to the pastor in the next town over, I would be bothered.  Does it change anything if they instead listen to Issues etc.?  If my people were raving about the preaching at a nearby congregation they had been attending on Saturday night, I would wonder what was going on. Does it change anything if the preaching they heard was the Lutheran Hour Speaker?    Does it change anything if your people are learning about liturgy from Weedon or Cwirla instead of the retired pastor in town?
I say all this as one who put out morning devotion for about 120 days and invited the world to see them.  One of my questions was always, should I be leading devotions in people's homes where I am not their pastor?  I wanted others to watch but was never sure it was right.  I ask this as one even now writing a blog that I suppose will be read by more non-members than members of my church.  Should I be teaching those outside my pews regardless of how wise I think my idea for the post was?
This I know: in our day, many LCMS members, particularly the more conservative ones, spend more time with Fisk and Wilken than they do their own pastor.  They get more theological teaching from blogs than they do from bible study with their pastor.  Is that proper?  Do Fisk or Wilken or Hoppe have any right to teach people who are not their members?
Bill Cwirla always says on God Whisperers that the LCMS is not good with celebrity pastors.  But I would suggest that we have for a while become much more comfortable with them.  We might not call them celebrities.  We might use terms like expert.  But more and more, people are receiving spiritual care from all sorts of pastors not necessarily called by them to do so. 
My question is this:  But should those us offering opportunities that for that kind of spiritual care stop?  Yes, we are pastors.  But pastors to whom?