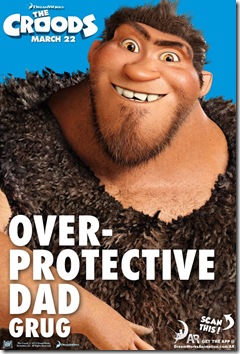 Last Friday was "Boy's Day Off."  For those not familiar with that term (meaning those not living my house) "Boy's Day Off" is when my day off becomes a day of bonding with my boys, Gideon and Josiah.  Typically that means going to our nearest town of size, Salina.  And sometimes it means doing something special like seeing a movie.  Last Friday was one of those days.  So what would we see?  Well, of course the latest animation flick called "The Croods."
I sort of figured they would be all sorts of "millions of years ago" talk and other evolutionary nods in a movie about "cavemen."  And we were treated to some of that, including a grandma with a evolutionary leftover, a tail.  But truthfully, it was not these details that bothered me.
What bothered me was the clear message of the movie itself.  You see the main characters in the film, the cavemen, are called the Croods.  We find out they live in a cave most of the time for safety.  Then we are introduced to the neanderthal  father Grug who loves rules, tells stories about how curiosity over new ideas leads to death, and speaks of fear as the key to survival.
The rest of the movie shows us the error of his ways as the hero "Guy" explains to the family that only new ideas can make them survive and encourages them to ride the sun to tomorrow.  (The sun worship in the movie is quite creepy, but that is for another post I likely will never write.)
So let me decode the movie for you.  The Croods are certainly meant to caricature people like myself who find safety in a cave (Church), follow rules and rituals (things like the Ten Commandments and the liturgy), and fear everything (things like homosexuality).  Supposedly our motto is "Never not be afraid! Fear keeps us alive!" 
Guy is meant to be the antithesis of all of that.  He is the model progressive modern man with new ideas that will set people free from the bonds of traditional thoughts and rules.
So what is the point of this movie?  Ultimately that children must leave behind the rules of their oppressive knuckle-dragging parents and find those who will introduce them to new ideas that will lead them to the happy forever of tomorrow.  The way of life shown to them by their parents is after all not really living but is dying.  Therefore, they are to never be afraid of any new idea.
My kids would not have been able to tell you that this was the main point of the movie walking out of the theatre.  Judging from other reviews made by Christian people on the internet, most adults didn't discern this point either.  But I have seem this theme told in kids movies over and over again lately.  The filmmakers are shaping our children's worldview one movie at a time.  And they are doing so intentionally.  Whether kids or parents discern it, it is happening.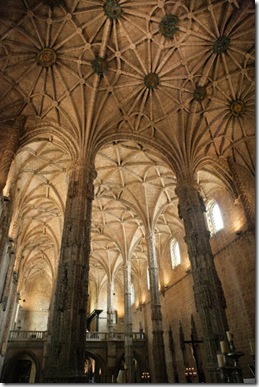 It is to the point where I just don't think I am going to be taking my kids to any more movies without seeing them first.  I don't need this junk in their head.  I do not need my children being taught by these fools.
I suppose the screenwriter of the movie reading that last line might just say, "See there it is.  Never not be afraid.  Fear even kids' movies.  He is a Crood."
Well yes, I guess I am.  But here is the truth.  The cave is not dark.  It is where true light dwells.  The rules do not take life away.  They lead us to the abundant life.  And as for fear, some fear is proper.  "Behold, the fear of the Lord, that is wisdom, and to turn away from evil is understanding."
I am a Crood.  Thanks be to God.  Amen.