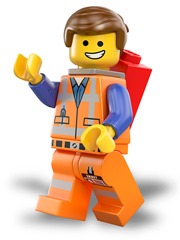 Yesterday, I took the kids to the Lego movie.  My Facebook feed has been filled with praise of the movie from all sorts of friends.  It is of course cool to see a childhood fantasy land of little bricks come to life on the big screen. And no doubt, it is a feel good movie with a nice mix of humor, action, and even a love story for those looking for such a thing in their kid's movie.
But after I watched the whole movie, I was a little surprised at the love this movie had received from so many of my Christian friends. 
I had heard from many that besides the full on nostalgia this movie delivered that it also took aim at the overregulation that progressive politicians usually favor.  I was told that it was a plea for freedom, a please against regulation, a plea to let master builders build.  And no doubt, having heard all of that, I certainly saw some of that especially early on in the film.
However, by the end of the movie, I couldn't help but think the point was something else.  The move begins and end with talk of the big guy upstairs.  And by the end of the movie, the big guy from upstairs (who happens to look like Ron Burgundy) has an epiphany of sorts.  He decides that he has been wrong to want everything in his world just the way he ordered it originally.  He concludes that he should just be happy with whatever humanity does with his creation.  He removes the glue that makes everything so uniform.   Now everybody can just do whatever they want.  Even girls, so long kept away from expressing their own creativity, can go to work creating the world the way they like.
Add to that the fact that Emmet, the movie's main hero, learns at the climax of the story arch that believing you are special because of some prophetic word  spoken by some sage yields nothing.  After all, such words are just myths made up by well meaning old people.  Instead, you are special if you just believe you are special.  Believe in yourself and all is well.
Sorry friends that ate up this movie but I saw the same themes I see in about every kid's movie I go to lately.  Here they are:
Authority is bad.  It makes everything boringly the same and holds people down.
Anything word that comes to you from outside of you is just a myth.  Even if the myth tellers are well-meaning, it is better to be free of the myth.
You are special regardless of what choices you make.  Just believe in yourself and all will be well.  Don't let anyone tell you differently.  Do whatever you want.
Sorry friends, everything is not quite awesome.