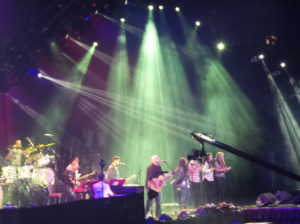 This year I went to the National Youth Gathering with my youth group.  A lot of my friends are right now in Colorado at a Higher Things gathering with their youth.  
And of course many keystrokes have been tapped over these gatherings before and will be again. One group claims one of these gatherings is something to be avoided like the plague.  The same group often speaks of the other gathering as somewhat of a little heaven on earth.  In contrast, another group claims that one of these gatherings is lacking needed application to real life and borders on boring.  They speak about the other gathering as if it is the best experience any youth could have on this earth.  
There is much that could be said about either gathering.  (If you want my opinion of the National Youth Gathering this year, hit me up personally). But I want to focus on something that can and should be said of both gatherings to our youth.     
What should be said?  This: They are not as important as they might appear as you watch them scrolling by on your facebook feed.  This is not to say that no good comes from them.  But neither will really accomplish much by itself.  Whether the rock band pulses through your veins in a way that seem to shake your soul or whether you think the Te Deum could not sound even a bit more sweet if a choir of angels performed it, this is not what will sustain your faith over time.
The rock band will not make Jesus any more present in his word or sacrament and neither will the cantor extraordinaire.  And as for all those sectionals, most of their content could be taught to you by your local pastor if you would give him the time and attention needed to do just that.  He can teach you just as easily as the rock star hipster pastor or the confessional juggernaut celeb.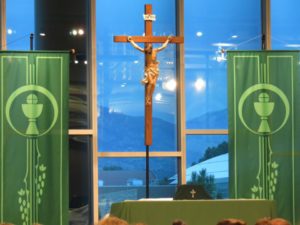 Here is my point.  Way too often we adults are promoting these gatherings as the thing kids should be most excited about.  We act as if they will change everything.  We post pictures and videos as if nothing else could measure up.  
But I want my youth to know this.  These gatherings may be fun.  They may be enlightening.  They will likely give you a sense of the universal church that is hard to grasp locally.  But they are not even close to the most important things in regard to your faith.  
So what is?  Two things.  First, connection to and participation in your local church as it gathers around the Word and Sacrament weekly.  Second, daily prayer and catechesis in your home.  Your pastor and your parents are much more important than the celebrities at either youth gathering.  While those famous types might encourage you to follow them on twitter, your pastor and pastors will be right by your side throughout the ups and downs of life with Christ.   And if they are doing their job well, they will make sure to take your hand and lead you back to Jesus time and time again.
I have nothing against going to these gatherings. But if any of them becomes looked at as way better than what you pastor gives you at church and your parents teach you in your home, there is need for repentance.
Participate in your church.  If you do not have one, start looking here.  A pastor will be waiting there to help teach you and give to you God's gifts in Jesus.  Pray and learn in your home. If you need help having time of regular prayer in the home, check out LivingPlanted.com.  Listen to the faith that your parents are seeking to pass along to you.
What do the NYG and Higher Things have in common? Neither is as important as they seem.  Your church and pastor are.  Your home and parents are.  Find Jesus first and foremost there.