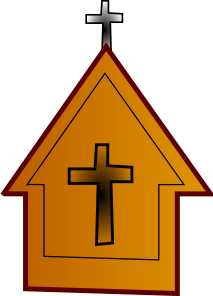 Okay.  I hope not to offend.  But rather to challenge. I can't take another friend liking this phrase on Facebook.  I can't have them standing in the midst of the 250,000 who have already joined in this confession.  The congregation of the churchless.  The assembly that chants together, "Going to church doesn't make you a Christian any more than standing in a garage makes you a car."
Oh, there is a trickle of truth running down this canyon of deception.  It it true that your action of going to church does not turn you into a Christian.  No work of ours gives us our identity as Christians.
But it is precisely in going to church that one is made a Christian.  First at the font.  Then in the assembly.  Later at the table.  God does his work of making and keeping us Christians in his Church.  It is why the phrase "I believe in the Holy Spirit" is followed quickly by talk of the Holy Christian Church in the Creed.  As Luther says, "the Holy Spirit calls us by the Gospel, enlightens us with His gifts,sanctifies and keeps us in the true faith.  We are only made Christians by the Gospel and Gifts of God.  And those are given out in the church.  So in this sense, it is precisely by going to church that you are made a Christian and remain one.
Garages, you see, don't make cars from sinners.   That is where the analogy fails.  But God's Church, endowed with his Gospel and His gifts, does make Christians from sinners.  And that is why  going to church does in fact make you a Christian.