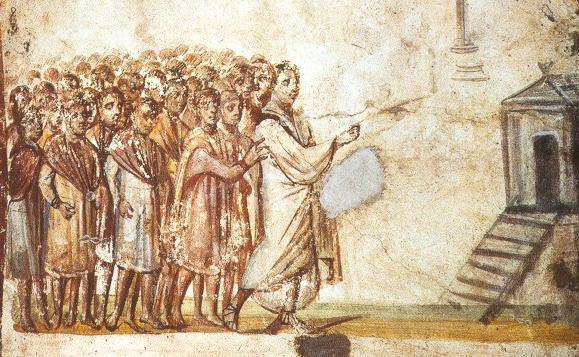 When Lent comes (and it is coming soon), you will be reminded that Lent is the season of forty days that precedes Easter. But if you went and counted the days from Ash Wednesday to Easter Sunday, you might wonder if the Church is using some sort of new math in laying out the Church Year.  But if you ask your pastor, he will tell you the reason.  Every Sunday, even in Lent is considered a "Little Easter."  So Sundays are not technically "of Lent" but are "in Lent."  You don't count the Sundays.
Most often when confessing this truth, we think of this concept quite narrowly. We think it is a "Little Easter" only in the sense that every Sunday is a Celebration of Jesus' Resurrection.  We meet on Sundays because He left the tomb on a Sunday.  The eighth day is the day of His Resurrection and therefore, every eighth day is a "Little Easter."
But there is more to be said.  Each Sunday is also a little Easter for you.  For ever since your baptism, Jesus' resurrection is your resurrection in His grace.  All too often, we seem to think forgiveness is the present gift of God and that resurrection is a future gift he will give on the Last Day.  And so we leave every little Easter thinking only of ourselves as forgiven sinners.  We forget that the Scriptures are clear that when the Word of God meets our ears, His absolution rests upon us, and His Body and Blood are placed inside of us we are not only forgiven, but are raised to new life.  We are resurrected.  Your old self is killed, yes.  But that is not all.  A new creation comes forward.  A new self that rejoices in the things of God and brings forth good fruit is reborn each Sunday.
And so you are to reckon yourself each Little Easter.  Be comforted that your sins are forgiven.  But also be encouraged that you are made new.  Truly reckon yourself alive to Christ.    Know that you leave Church each Sunday a new person, recreated in the image of God, free to serve Him.
Every Sunday is a Little Easter.  And that does not just relate to the Church Year.  It relates to the work God does each Sunday as He brings both Christ's death and His resurrection to bear on you in words, water, bread and wine.  You are alive!