Screens and projectors in the church.  Okay.  Everybody calm down.    Get a beer or a coffee or whatever you need.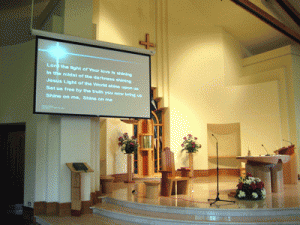 I know that one of the sacred  marks of those who call themselves confessional is an aversion to screens in churches.  I heard an ad on Issues Etc. where the church beckoned people to come just because of their lack of screens.  The Steadfast Brothers advertise their site based on their anti-screen cred too.  I recently watched as a group of  men sat way up front in church to make sure they could not see the screens in the sanctuary we were all together in.
But, you know what was on the screen that day?  The liturgy.  The liturgy of the church.  The liturgy which delivers to the people their Lord Jesus.  And yet these men refused to look at it.   Why?  Because it was on a screen in a church.
Well it is really more than that.  The true reason they did it is about confessional identity.   You wear the clerical.  You carry the BOC.  You hate the screens.  That is who you are.
I do know the real reason why screens became anathema in confessional circles.  It is because they were first used by churches outside our Synod.  They were used  in places where experience in often emphasized beyond the work of God in Word and Sacrament.  Next screens were embraced by churches inside our Synod who tended to embrace the philosophies of business world and the simple (often Jesus-less) songs of the Evangelical church down the street.  Admittedly, liturgy and hymnody on these screens is a rare sight on the whole.
However, the issue is not the technology though.  This is my point.  You must understand that lights are technology as are speakers and microphones, and yet no one advertises their lack of them.  And if you want the most modern and forward thinking technology in the church today, it is not the screen up front but organ in the back.
Please brothers, most of  whom I consider friends and good theologians, let us not give the impression that we are all about bemoaning screens in the church, as if that is the main issue of our concerns.  Let us ask instead, "What is on your screen?  How does your screen add to or take away from the sacred space in which we gather to receive the gifts of God?  It is an aid or distraction to the Gospel?"  Those are the issues.  Not the technology.  Not the Screens.