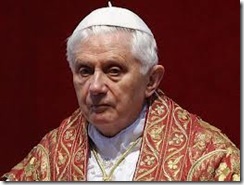 Pope Benedict XVI has announced that he will resign his office on February 28.  And while this news is shocking enough since no Pope has resigned his office in over 600 years, the story does not end there.  Listen to what the Pope told us in an exclusive interview.
"The Vatican is trying to break all the news slowly.  This is going to be messy.  It is true that I am resigning from being the Pope.  But there is more.  On February 27 as my last act, I will dissolve the office of the papacy altogether." 
When asked why he would do such a thing he said a little sheepishly, "Well for Christmas, I got a Kindle Fire, just like everybody else.  When I downloaded the Catechism of the Catholic Church, it suggested another book called Luther's Small Catechism.  Being the thrifty guy that I am, I looked for the best deal.  I saw that it was included in a larger book called the Book of Concord.  In just seconds thanks to Whispernet, I was reading it on my Kindle.   It was great stuff.  Eventually I got to a part called the Treatise on the Power and Primacy of the Pope.  Needless to say, it piqued my attention."
"Then I read these words, 'But it is manifest that the Roman pontiffs and their adherents defend godless doctrines and godless forms of worship, and it is plain that the marks of the Antichrist coincide with those of the pope's kingdom and his followers.'  It made a lot of sense.  So I am out.  And the office will be dissolved.  I don't want to be the Antichrist any longer.  Who would?"
The Pope also mentioned some other changes would be coming.  When he told a fellow priest about his revelation, he found out the leader of the movement behind this Book of Concord had been excommunicated, he exclaimed, "Well that is embarrassing.  Let's undo that.  And make him a Saint pronto." 
He also mentioned that he has found other things in this Book of Concord that might require some further statements and changes.  "The fourth article of the document called the Augsburg Confession sure seems on point.  I will get back to you on that." 
We will keep you updated on any further details.
Why is this in blue?  Click here.