Against killing babies.  Against killing old people.  Against killing oneself.   All laudable causes no doubt. But for Life.  Pro-life?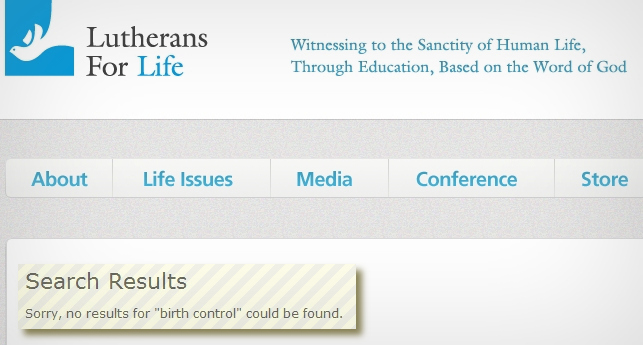 No doubt to be anti-death is in one sense pro-life. But there is no doubt that those in the pro-life community are known mostly for that they are against, namely death. And there are many reasons for this, but I feel there is one more reason that is rarely admitted. There it a uneasiness is talking about being pro-life is the positive sense because of one topic. Above is the actual screen shot from a recent search of mine on the Lutheran's for Life website. I once asked the Director if they had any resources on the topic of whether Birth Control was appropriate for Christians in general. He said, "No. We don't want to get into that at all." And from my search, it seems that this is still the case.
No doubt, there is a difference between abortion and thwarting birth through artificial (or even so called "natural" means) biologically. But we must admit there is a similar attitude or ideology at work in either action. The shared idea governing both choices is that children, at least at certain times and certain situations, are not blessings but an inconveniences. Truth is, many inside the pro-life movement are much more anti-death than they are pro-life. They are against killing while still being anti-life based on their own reproductive choices.
After all it is hard to genuinely claim to be pro-life by protesting at the abortion clinic when you then go home and figure out how to most effectively make sure no life is created in your bedroom. It is hard to to convincingly say you are being consistently for life in telling a young girl to give birth to her unintended child shortly after popping the pill which makes clear your intention is to not give birth. Its is inconsistent it seems to me to say "yes, yes" to everyone else while saying "no, no" to God.
It just seems to me that if we want to genuinely claim that are pro-life and gives a consistent witness to the sanctity of life, we must be for all life. We must be open to all life that God might create, rather then just that which he already has created. Comments?