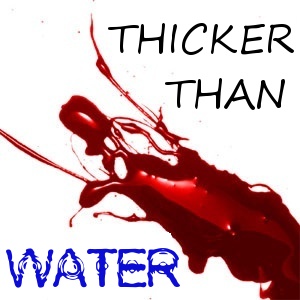 Our bible class continue to study the Gospel of Matthew.  Last week we read these words.
Matthew 10:21-22 Brother will deliver brother over to death, and the father his child, and children will rise against parents and have them put to death,  and you will be hated by all for my name's sake. But the one who endures to the end will be saved.
The German proverb came to mind (Blut ist dicker als Wasser):  Blood is thicker than water.   In most cases, this idiom is meant to say than family bonds are stronger than that of friendships.  And if thought of this narrowly, I suppose it could be held to be true.  But if it is thought of more broadly as suggesting that family bonds are stronger than any other relationship, we as God's people must say,  " No.   Blood is NOT thicker than water."
For the water of Baptism forms a bond that is even stronger than that of family.   That is what the scripture teaches.  Our connection is both to Christ and to one another.  And this connection is even thicker than blood.  In fact, it is so strong that it indeed can rip blood relation right in two.  One clinging to Christ, the other to his or her gods.
But all too often this idiom, while originally meant to speak about the precious nature of family, is an apt description of how family becomes an idol which leads people away from the fellowship they have through water and the word.   Not too long ago I was talking with an ELCA pastor about their recent decisions to allow gay clergy and the like.  I ask him what his rural Kansas congregation thought about all of that.  He said with obvious sadness, that unfortunately many of his people would soon embrace the very same positions as the church body (even though they did not now).  His reasoning was important.  It was not that they would be convinced through a theological  or biblical argument that it was okay.  He said they would soon find that they had a family member embracing such a lifestyle and would change their position essentially in an effort  to not lose that person.  Blood would be stronger for them than water.  They  would embrace that which was foreign to their faith in order to respect family ties.  I fear he spoke all too prophetically.
Family is good, and the strong bond of blood ought to be a reason to give thanks to God.  But even this bond much be placed in its right place.  Blood is NOT thicker than water.  The bond we have with Christ and with all who know him must always be viewed by us as even stronger than family.  If our family leaves Christ, we must with great sadness for our loss of family, remain where we are, with Christ, in the communion of saints.  The one who endures to the end will be saved.